Back from the Northeast
I didn't get to Cooperstown, but I did take in two ML games to extend my streak of a game every year starting in '98. (And I think I had five or six years in a row before the break in '97.)
Tuesday, July 22, 2014 - Yankees 3 Rangers 2 in 14 innings
Longest game I've ever seen in person; last pitch right at midnight.
I'm wearing the
Yankee
cap that was given to the first 18,000 fans over the
Cardinals
cap I wore to the game. I like to sit behind the plate, even if I have
to go high up. I bought the tickets at the Yankees website for only $40 each.
Thursday, July 24, 2014 - Phillies 2 Giants 1
Good seats above the plate again. I think Citizens Bank is still my favorite ball-
park. The huge, high-def jumbotron (just off the left of the photo) was the
best in the business when I first went to the stadium in '05 but has been leap-
frogged by other parks now. I think a major factor in my ranking this stadium
at the top is the copious parking. No city has the setup Philly has, with all three
of its stadia (
Phillies
,
Eagles
, and
76ers
/Flyers) on one enormous plot of land.
Facts about the First All-Star Game
The first ML All-Star game was held on Thursday, July 6, 1933, at Comiskey Park, Chicago.
The game was the brainchild of Chicago Mayor Edward J. Kelly who wanted a sporting event for the Chicago World Fair of 1933. He turned to Colonel Robert McCormick, editor and publisher of the Chicago Tribune, who in turn enlisted his sports editor Arch Ward, former publicity man for Knute Rockne at Notre Dame.
Ward pushed the idea of an All-Star game with baseball's league commissioners and owners. The game's greatest players together on one field.
Ward should have approached Commissioner K. M. Landis first but Arch was surprisingly intimidated by the former federal judge. So instead he laid out his idea for AL President Will Harridge. One of his arguments was that, by staging the game at Comiskey Park, baseball could erase some of the stigma created by the 1919

Chicago "Black Sox."

Harridge lobbied his eight owners and obtained unanimous approval.
NL President John Heydler met resistance. He started with

Cubs

owner Philip Wrigley, who didn't think an exhibition game was worth interrupting the regular season for. But

Cubs

President Bill Veeck Sr. warned that it wouldn't be in the team's interest to irritate the city's largest newspaper.

Giants

owner Charles Stoneham also opposed squeezing the game into his team's already tight schedule, but Ward explained that he had chosen a date that would accommodate travel requirements with a minimum of schedule disruption.
Sam Breadon,

Cardinals

owner, feared that the game would become an annual affair, but Ward assured him that that was not the case. (Little did he know.)
Eventually, the NL went along with the proposal. As a result, the schedule makers shut down both leagues on July 6 to free players for the game.
The fans and managers selected the players, and legends John McGraw of the

Giants

and Connie Mack of the

Athletics

were chosen to manage the teams.
Bleacher tickets, which cost 55 cents, sold out in 45 minutes. Grandstand tickets at $1.10 and boxes at $1.65 took two days.
47,595 packed the park on a sunny day for the game. Babe Ruth rose to the occasion and smacked a two-run HR to spark the AL's 4-2 victory.
Landis was so pleased he proclaimed, "That's a grand show, and it should be continued." Even Stoneham favored making the game an annual event and offered to hold the 1934 game in his park, the Polo Grounds.
National League 1933 All-Star Team
2014 Hall of Famers - V
This is the sixth and last in a series of articles about the 2014 Cooperstown inductees. These articles are not biographies but just some interesting facts about them.
Joe Torre
They said he wasn't familiar with "the Yankee Way" when he was chosen as manager.
"Is this the best the Yankees can do?" asked the press. "He's never won a pennant in 15 years of managing."
The description you just read fit Casey Stengel in 1949 as well as Joe Torre 47 years later.
Casey won the World Series the first five years he skippered the Bronx Bombers.
Torre's Yankees won the AL East ten of his twelve seasons at the helm, won six AL pennants, and four World Series in an era when free agency made sustained success much more difficult to achieve than in Casey's day.
Joe joins not only Stengel but also other legendary Yankee skippers Miller Huggins and Joe McCarthy in Cooperstown.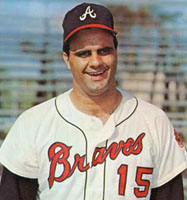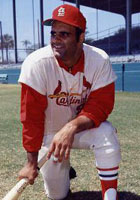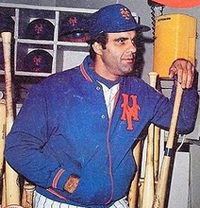 Joe grew up in Brooklyn as a Giants fan.
He was in the stands when Don Larson threw his perfect game in the 1956 World Series. He attended the Fall Classic in '57 and '58 rooting for

Milwau­kee

against the Yankees because his older brother Frank toiled at 1B for the

Braves

.
Two years later, Joe joined the

Milwaukee

organization as a C, shifting with the team to Atlanta in '66.
Traded to the

Cardinals

in 1969, he shifted to 3B and 1B and had his great­est season in 1971 when he led the NL with a .363 average, 230 hits, and 137 RBIs.
He finished his playing career with three seasons with the

Mets

('75-'77).
All in all, he compiled a solid body of work (.297 average over 18 years) but not Hall of Fame caliber.
Interestingly, he would manage for each of the three franchises he played for:

Mets

('77-81),

Braves

('82-84), and

Cards

('90-95). During that time, he won only one division title -

Braves

in 1982.
The difference with the Yankees?
Joe: My years with the Yankees were marked by exceedingly strong pitching. I never had anything close to those staffs previously. People can say what they want about George [Steinbrenner] but nobody wanted to win more and was more willing to do whatever he could to acquire players who would help us win.
Steinbrenner's son, Hal, now the managing general partner: Joe led us during one of the most successful runs in our history. He did it with a quiet dignity that was true to the Yankee way.
A Slice of History - II
These articles take us back to a moment in sports history as reported in a newspaper the next day.
100 Years Ago This Month
Sunday, July 12, 1914, The Boston Herald, reported on the debut at Fenway Park of a 19-year-old prospect.
RUTH CREDITED WITH A VICTORY IN LOCAL DEBUT
Red Sox
Southpaw, Secured from Baltimore, Shows Up Well Against
Cleveland
-
Leonard
Holds
Naps
Safe in Closing Innings,
Sox
Winning Opener of Series by 4 to 3
Big Babe Ruth, the new southpaw pitcher of the Red Sox, made his debut as a major leaguer at Fenway Park yesterday afternoon against the Cleveland Naps and, although this latest addition to the Carrigan twirling staff didn't stay through to the finish, he will be officially credited with the winning of the game, the final score of which was Boston 4, Cleveland 3.
Ruth, along with Pitcher Shore and Catcher Ben Egan, who also figured in President Lannin's $27,500 cash deal with the Baltimore club, arrived in town only yesterday morning, but the Boston club is so hard pressed for pitchers at the present stage of the championship fight, that Manager Carrigan concluded he would let the young man have an immediate opportunity to display his wares. He made a very favorable impression upon the 11,087 fans who had clicked their way through the big turnstiles and got the warmest sort of a reception when he stepped into the box in the opening inning.
Ruth Looked Like Veteran
True it is that Ruth didn't last out the game, disappearing via the pinch-hitter route rather than for any more serious reason. It was a pretty tough position in which to place any youngster, certainly one whose experience has been as limited as the Babe's, facing hitters of the Nap Lajoie and Joe Jackson stripe. Yet Ruth didn't falter and fall, he was self-composed, never passing a man to first, showing excellent judgment in his throwing of the ball to the bases and acquitting himself all around as a veteran league boxman rather than the veriest tyro in big league company. The first big game for any recruit is alwys his toughest.
Leonard's Pitching Perfect
Ruth's departure from the scene of hostilities occurred with the conclusion of the first half of the seventh inning after the Naps in their half had tied up the score on a couple of safe hits, a sacrifice and another safe bingle, all of them into left field territory. Quite as much in the hopes of starting a little something, as because of any dissatisfaction with the Babe's performance, Manager Carrigan sent Duffy Lewis in to bat for Ruth. Duffy scratched out a hit, which, with an error and another hit, was eventually worked up into the winning run.
So it was that Boston was in the lead, 4 to 3, when Dutch Leonard took up the pitching burden for the home folks. And Leonard, it should be remarked, pitched perfect ball during the two innings he faced the tail-enders, striking out four of the six men, with noboby reaching first base.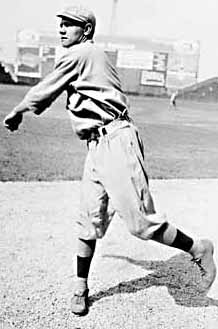 Babe Ruth 1914
A Slice of History - I
These articles take us back to a moment in sports history as reported in a newspaper the next day.
68 Years Ago This Month
The Boston Herald, Monday, July 15, 1946, reported on the doubleheader at Fenway Park the previous day between the Boston Red Sox and the Cleveland Indians, who were led by player-manager SS Lou Boudreau. Ted Williams went 4-for-5 with three HRs in the opener.
Ted
got a grand laugh out of the freak defense the desperate
Boudreau
or­dered his men to play on the
Kid
in the third inning of the finale, after
Ted
had made five damaging hits in a row. ...
Boudreau
himself went to the second base po­sition, and closer to first than the second sacker usually plays. ... He sent Sec­ond Basemen
Conway
into short right field. ... First Sacker
Jimmy Wasdell
played deep. ... Third Sacker
Keltner
went over and actually played on the right field side of second base. ... Left fielder
Case
came in and played a few yards back on the grass behind the shortstop's usual spot. ... Center fielder
Seerey
was in deep right-center, near the wall of his bull pen, and the right fielder had his back up against the
Sox
bull pen.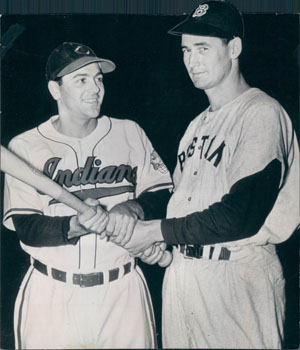 Lou Boudreau and Ted Williams
2014 Hall 0f Famers - V
This is the fifth in a series of articles about the 2014 Cooperstown inductees. These articles are not biographies but just some interesting facts about them.
Frank Thomas
At age nine, rank promised is family that we would become "a great base­ball player" to honor his baby sister, who died from leukemia.
Yet he was cut from his high school team in Columbus GA the first time he tried out.
Despite hitting .440 as a senior, he was ignored in the MLB draft. So he went to

Auburn

, where he lettered as a 6-4 TE in 1986 but dropped foot­ball after hitting .359, driving in 68 runs, and swatting a school record 21 HRs.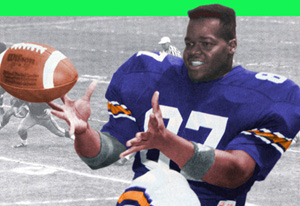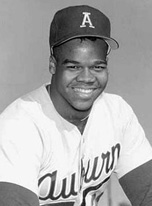 Ironically, his football coach, Pat Dye, is the one who suggested Frank stick with baseball. "Football was my game," Frank said. "When I got to

Auburn

, I saw how deep the program was. Every position was four deep. But I could play baseball and I could play baseball at a high level. But I grew up down South and people didn't care about baseball. It wasn't the cool sport back then." Two injuries early in his sophomore year of football cemented his de­cision.
Although he was bypassed for the 1988 Olympic baseball team, he became the seventh player drafted in 1989.
Insulted when the White Sox assigned him to Class A ball, he moved up to AA Birmingham the following year before joining Chicago late that season.
He became the only player in history to hit .300, hit 20 HRs, drive in 100 RBI, and work 100 walks for seven straight seasons.
In addition to slugging 521 HRs over 19 years, he led the AL in batting ave­rage (.347) in 1997.
Unfortunately, the one season the White Sox made it to the World Series, he didn't play after appearing in only 34 games because of bicep and ankle inju­ries. When he threw out the ceremonial first pitch at one of the games, he had tears in my eyes - "one of my proudest moments," he said. His team­mates voted him a championship ring.
2014 Hall 0f Famers - IV
This is the fourth in a series of articles about the 2014 Cooperstown inductees. These articles are not biographies but just list some interesting facts about them.
Greg Maddux
Those who watched Greg Maddux pitch marveled at his ability to deliver pitches precisely where he wanted them. You might suspect that he devel­oped such control from an early age. And you'd be right.
Greg's older brother Mike, a former ML P himself and now a pitching coach, recalls their early years. Being a nomadic military family, with no television in the house, it was Greg and me every day playing ball. Our favorite game was Home Run Derby, where it was one strike and you're out. Home plate was a wicker lawn chair, and we used a Wiffle ball. A swing and a miss or a foul ball was an out. If you didn't swing, and the pitch hit the chair, you were out. So we had a target for every single pitch. We learned as boys the im­portance of location.
Their dad Dave was a standout P in high school in Indiana before joining the Air Force. I started both of the boys pitching when they were about 3 years old. We kept it simple: Step forward and hit the mitt ... step forward and hit the mitt. I repeated that to them a thousand times. I also hit ground balls to them for two hours every afternoon. ... I would give them situations that they'd react to.
The Cubs chose Greg with the second pick in the 1984 draft and sent him to rookie ball in Pikeville KY. One of his teammates there recalls: We had all heard of this flamethrower from Las Vegas who signed for a fat bonus ($85,000) right out of high school. So we expected to see this big stud. We were shock­ed when Greg showed up weighing all of 145 pounds. But we saw right away that he could really bring it.
Greg didn't exactly burn up the National League when he joined the Cubs near the end of the 1986 season and during his first full season in 1987.
1986: 2-4 record, 5.52 ERA
1987: 6-14, 5.61
But he hit his stride in '88, going 18-8 with 3.18 ERA. He never won less than 15 games for the next 16 seasons.
Greg credits his improvement to Cubs pitching coach Billy Connors, who taught him how to throw a cutter in the early '90s. That gave him a fifth re­liable pitch. He delivered all his pitches with exactly the same motion and they all had late movement. No wonder he won 355 games with a career 3.16 ERA.
Teammates loved Greg and not only because he was their bell cow on the mound. John Smoltz, his longtime teammate on the

Braves

who will un­doubtedly join him in Cooperstown next year, recalls: Greg kept everything lighthearted in the locker room. But even with all the joking and needling that went on, Greg was always willing to help guys on the team when they might be struggling with their motion or wondering how to get a hitter out. His recognition of a batter's weaknesses and strengths was uncanny. He had this innate ability to see a flaw in a hitter right away, when others might have to study tape for hours to pick up on it.
The

Braves

manager, Bobby Cox, agrees with Smoltz. Greg was the per­fect teammate. He never went on the disabled list. [He started over 30 games in 19 different seasons and led the NL in innings pitched five straight years from 1991-95.] He showed up every fourth or fifth day and gave you an outstanding effort, and his ability was off the charts. No one in baseball history had better command of his fastball than Greg. Plus he did all the little things that win games. He could rally squeeze, he almost never missed a bunt and he fielded his position like a maestro.
2014 Hall 0f Famers - III
This is the third in a series of articles about the 2014 Cooperstown inductees. These articles are not biographies but just some interesting facts about them.
Tony La Russa
Hope to be great, but always prepare for the worst. That's one of Tony's favorite sayings that he applied day after day in becoming the second win­ningest manager in ML history.
A $100,000 bonus player out of Tampa FL when he signed with the Kansas City Athletics in 1962, Tony had a long minor league career as an infielder but garnered just 35 hits at the big league level, most of them in 1970 with the Oakland A's, a team he later managed.
Because of his studious approach to the game, more than one of his managers recommended Tony become a coach or manager, particularly George Kissell, revered overseer of the Cardinals' minor league operation in 1977 when La Russa played 2B for the New Orleans Pelicans of the American Association.
Tony admits he kept playing three or four years after it was obvious he would never make it back to the big leagues because he was paying his way through law school at

Florida State University

. I don't regret playing 15 years in the minors. I needed it to get through law school without a big debt.
Tony began managing in the majors at age 34 with the White Sox, taking over during the 1979 season when Donny Kessinger was dismissed. After each game, Tony and his buddy Jim Leyland, one of his coaches, would study what the veteran managers they went up against did each game. In 1983, Chicago made the post-season for the first season since 1959 when they won the AL West with a 99-63 record.
La Russa moved to Oakland during the 1986 season and won the AL pennant there in 1988, the World Series in '89, and another AL pennant in '90.
He finished his career with 16 seasons with the Cardinals, during which the Redbirds finished below .500 just three times, won their division seven times, the NL pennant three times, and the World Series twice.
2014 Hall 0f Famers - II
This is the second in a series of articles about the 2014 Cooperstown inductees. These articles are not biographies but just list some interesting facts about them.
Tom Glavine
The newly-elected Hall of Famer almost turned down baseball for another sport. As members of the Atlanta Braves organization traveled to Tom's hometown of Billerica MA 30 years ago to offer the young P a baseball contract, representatives of the

Los Angeles Kings

prepared their pitch to the C they drafted in the fourth round of the 1984 NHL draft.
Braves scout Tony DeMacio had to convince his superiors that the young lefty could become a decent starter to help the struggling Braves. Rushed to the bigs faster than he would have been with a more successful franchise, Tom led the NL in losses in 1988 as he compiled a 7-17 record with a 4.56 ERA.
The key to his eventual success was the nasty change up he discovered before the 1991 season, in which he won 20 games to help the Braves jump from last to first and a berth in the World Series against another worst-to-first team, the

Twins

. Tom also won 20 and 22 games the next two seasons.
In 1994, the Atlanta hurler was the point man for fans' enmity during the strike that wiped out the end of the season and the World Series. As the Braves player representative, he became the unofficial spokesman for the union in their battle with ownership. Tom recalls: I felt through it all that I had a responsibility to represent my teammates and, to a certain extent, the players in general to the best of my ability. And if I'm going to do something, I'm going to do it as well as I can.
Braves fans forgave him the following season when Tom pitched eight innings of one-hit ball in the clinching Game 6 of the World Series against Cleveland. Chipper Jones spoke for his teammates when he said, We followed Tommy's lead, and it doesn't take a rocket scientist to figure out that his poise, his mentality, his way of going about his business is what won him over 300 games.
His roller coaster ride in Georgia reached another low when Tom signed with the hated

New York Mets

before the 2003 season. But, after the 42-year-old Glavine returned to Atlanta for his final season in 2008, the Braves forgave him and retired his #47 two years later.
2014 Hall 0f Famers - I
This is the first in a series of articles about the 2014 Cooperstown inductees. These articles are not biographies but just list some interesting facts about them.
Bobby Cox
Bobby's baseball career couldn't even be called mediocre. But he spent his two years with the

Yankees

(1968-69) analyzing manager Ralph Houk's every move. Two of Houk's traits greatly impressed Cox.
a) The way he treated backups and stars exactly the same.
b) The way Ralph challenged umpires whenever he thought it was necessary.
Bobby certainly learned that lesson well as he is the all-time leader in ejections (161, 45 more than second-place John McGraw).
Ted Turner admitted that firing Cox as manager following the 1981 season was the worst decision he made as Braves owner. But he got a chance to rectify the mistake four years later when he talked Bobby into returning to Atlanta as GM even though he had just guided the Toronto Blue Jays to the AL East championship.
Bobby greatly improved the wretched Atlanta farm system into one that produced the likes of, among others, Tom Glavine, David Justice, Steve Avery, Mark Lemke, and Jeff Blauser.
The problem was finding a manager who would meld all that young talent into a top-notch team. He finally decided that he was that man and took over the managerial reins midway through the 1990 season.
It's rare that a successful manager (an astounding 14 straight divisional titles) also built the team he managed. Connie Mack comes to mind right away but what others can you think of?
Chipper Jones, who played almost his entire career under Cox, on his longtime manager: He garnered respect as soon as he walked into a room. It just seemed like that no matter how humble Bobby was, he commanded the room. He was like E. F. Hutton. When he opened his mouth, people shut up and listened.
---
About This Site
This site is devoted primarily but not exclusively to college and pro football. The unique feature of this site is the publication each fall of the author's rankings of all FBS college football teams and similar rankings for the NFL. I live in New Orleans and am a graduate of LSU and FSU. So I present a Southern and particularly an SEC point of view but one that is reasonably objective. I also publish a monthly Football Magazine with stories from the past and a monthly Baseball Magazine with a similar format. For most of the year, there's a monthly Basketball Magazine.
web counter

Hits since 8/3/12

<!END COLUMN ONE>

For Your Reading Pleasure

Cardinals

Clubhouse

---Surprising 1964 - II

---

Cardinals

Quiz

Did You Know?

: Now pitching -

Jimmie Foxx

One Great Year

Johnny Kucks

1956

The Ultimate Game

1956 World Series - Game 7

Short Story

- It's Not Smart to Irritate

The Lip
How Would You Rule? -

Pitcher delivers ball off rubber


Baseball Quiz

-

All-Star Game moments

Basketball Short Story

Destroy the Russians!




Tiger

Den Basketball Profile: Bob Pettit - IV
Basketball Snapshot

1957 NBA Finals - Game 7




From the Golden Archives

Basketball Week in Time Jan. 1945

Basketball Quiz

Coaches of NCAA Champions

Tiger Den

: Profile:

Young Bussey

- IV

Saints Saga

: 1987

Saints

- Games 1 and 2

Seminoles Sidelines

: First Unde­feated Season - III

NFL Championship Game

: 1950

Interesting Story

: "Best Quick-Kicking Team in History"

Dazzling Debut

:

Jerry Levias Short Story

Waitin' for My Baby

How Well Do You Know the Rules? Football Quiz