| | |
| --- | --- |
| | |
| OTHER RECENT POSTS | |
| | Parallels: Utah, TCU, Boise State |
2015 Cardinals = Braves of the 1990s?
Thursday, July 30
Atlanta Braves
in the 1990s
The Braves led the NL in ERA an incredible eleven years in a row thanks primarily to three future HOF pitchers: Tom Glavine, Greg Maddux, and John Smoltz.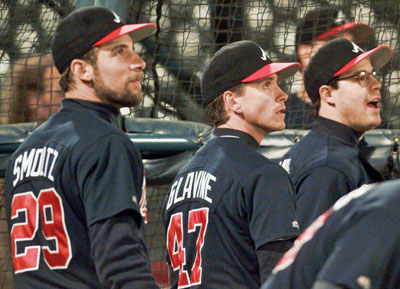 John Smoltz, Tom Glavine, Greg Maddux
Bobby Cox was criticized for winning the World Series just once, in 1995.
The standard argument as to why the

Braves

didn't win more World Series was that the playoffs require only two top starters.

Atlanta

's depth of starting pitching propelled them to NL East championships year after year but they didn't hit enough to prevail in the postseason against other teams' top pitchers (such as Johnson and Schilling for the '01 Diamondbacks).
What is ironic is that their World Series championship year of 1995 was the one in the decade the

Braves

ranked the lowest (9th) in the NL in hitting!
That brings us to this year's Cardinals.
The Redbirds have just been shutout twice in a row by the

Reds

in St. Louis.
The Cardinals are 1st in the NL in runs allowed/game but only 9th in runs/game. To demonstrate their dominance on the mound, they've given up 43 fewer runs than the 2nd place

Pirates

.
But the

Pirates

, who have the third most victories in the majors, rank sixth in runs produced (4.07/game compared to 3.97/game). However,

Pittsburgh

will probably improve that ranking now that Aramis Ramirez is at 3rd after being obtained from the

Brewers

in a trade.
On the other hand, St. Louis lost Matt Holliday again Wednesday night to a strained quad after he was out with a different injury for most of June through the All-Star break.
Thursday, the Cardinals traded for a left-handed bat in the person of Brandon Moss from

Cleveland

. Moss can play OF or 1B and will undoubtedly play the latter against right-handed pitching in place of Mark Reynolds, who has struck out 89 times against only 60 hits.
CAN THE CARDINALS SCORE ENOUGH RUNS TO NOT ONLY WIN THE NL CENTRAL BUT MAKE IT TO THE WORLD SERIES?
Louisiana QBs Last Ten Years - Dearth of Top Prospects
Wednesday, July 29
The writer doesn't really answer the question. Instead, he lists all the QBs LSU has signed since 2006 (starting with Ryan Perilloux) and what happened to each of them.
He does document that no QB who transferred from LSU in recent years has done well at his new school.
One factor in LSU's continuing QB saga is the lack of outstanding QB prospects in Louisiana since Perilloux.
I checked 247sports.com for its list of the top 150 Louisiana players in the class of 2015 and found nary a QB. Sometimes players listed as ATHLETICS or DUAL played QB in high school but are projected for other positions in college.
I checked 2014 at the same site and found the same result - no QBs in the top 150 prospects!
2013 - same result for the 133 prospects listed.
2012 - same result for the 97 prospects.
2011 - same result for the 40 prospects.
Here's the results for rivals.com, probably the top recruiting site on the Internet.
2014 - Brandon Harris (Bossier City) 4 stars - at LSU
Donovan Isom (Destrehan) 3 stars - Utah
Glen Cuiellette (Mandeville) 3 stars - Tulane
2013 - only one LA QB ranked 3 stars or better; Damian Williams (Rummel) -

Mississippi State

; lettered twice as backup to Dak Prescott
2012 - no Louisiana QB prospects 3 stars or better
2011 - #31 Zack Oliver (Catholic High BR) 3 stars - pro style QB (6'4" 220) signed with

Northwestern

; threw only 4 passes first two years and 57 this past season.
#33 Dak Prescott (Haughton) 3 stars -

Mississippi State

; led MSU to their first victory over LSU in 15 years
#35 Theltus Cobbins (New Orleans) 3 stars - injured as senior; signed with

Kentucky

but never played
2010 - Terrance Broadway (Baton Rouge) 4 stars - signed with

Houston

; transferred to

ULL

where he started three years and threw for over 7000y
Munchie Legaux (New Orleans) 3 stars -

Cincinnati

, where he went 258-for-477 for 3421y, 23 TD, 17 INT over five years
Final tally
The Bayou State hasn't boasted a five-star QB candidate since Perilloux in 2005. (Jordan Jefferson in the class of 2008 was four stars.)
Louisiana has produced only two four-star QB prospects since 2010. One of the two is Brandon Harris, who is fighting for the job at LSU. THe other is Terrance Broadway, who gave ULL three solid seasons.
Dak Prescott was obviously underrated at 3 stars. He has blossomed at

Mississippi State

into a Heisman candidate.
Munchie Legaux, another 3-star prospect, had a good but not outstanding career at

Cincinnati

.
The Next Joshua Dobbs?
Saturday, July 25
I'm watching one of the SEC Network's "Top 20" football games from the 2014 football season.
The game is the November 1 thriller in which

Tennessee

beat

South Carolina

45-42 in OT.
Going into the contest, the

Vols

had lost all four of their conference games.
But they had a new QB, sophomore Joshua Dobbs, who took over after Justin Worley was injured.
Dobbs would end the season with 1260 passing yards and nine TD passes with just six INTs. He also had 469y rushing and eight rushing TDs. All this in just six games. He ended the season as the MVP of the Tax­Slayer Bowl.

UT

won four of their last five games with Dobbs at the helm.
I have a vision of the 2015 season as I watch the game.
LSU has a sophomore QB who didn't play much his freshman year. His name is Brandon Harris.
Like Dobbs, Brandon has the potential to be a dual run-pass threat.
If Harris can have a season that approaches what Dobbs did the last half of 2014, the Ti­gers can be very, very good. Brandon will have a more talented offense around him than Dobbs did last season with RBs led by Leonard Fournette, highly-rated wide re­ceivers, and a veteran O-line.
I agree with most observers, including the King of the Preseason Magazine forecasters, Phil Steele, that LSU's defense will be quite good.
Phil has the Tigers ranked #10 in the coun­try, noting that LSU's 15 returning starters are the most since 2005. He points out that LSU avoids the top three schools in the SEC East (

Georgia

,

Missouri

,

Tennessee

) and have "a great shot at being 8-0 when they travel to

Bama

."
But that won't happen if LSU doesn't get QB play any better than they had last year.
Anthony Jennings is in limbo right now after his suspension for bursting into someone's apartment, allegedly to retrieve items stolen from him. But after being the starter for most of last season, Anthony has yet to show that he can be a productive SEC QB.
So that brings Harris to the forefront. Can he become this year's Joshua Dobbs, a sophomore taking over for the previous starter - only from the beginning of the season?
About This Site
This site is devoted primarily but not exclusively to college and pro football. The unique feature of this site is the publication each fall of the author's rankings of all FBS college football teams and similar rankings for the NFL. I live in New Orleans and am a graduate of LSU and FSU. So I present a Southern and particularly an SEC point of view but one that is reasonably objective. I also publish a monthly Football Magazine with stories from the past and a monthly Baseball Magazine with a similar format. During the winter and spring, there's a monthly Basketball Magazine.
web counter

Hits since 8/3/12

<!END COLUMN ONE>

For Your Reading Pleasure

Cardinals

Clubhouse

---Eventful 1940

---

Cardinals

Quiz

Even the Greats Have Bad Days

Hal Newhouser

The Ultimate Game

1972 World Series - Game 7


How Would You Rule? -

Runner helps fellow runner.


Baseball Quiz

-

First HRs

Short Story

-

Origin of the term "southpaw"

Tiger Den

: Season in Time 2005 - I

Saints Saga

: The Night

Kyle Turley

Went Berserk

Seminoles Sidelines

:

Bobby

's First Undefeated Season - II

NFL Championship Game

: 1960

AFL Championship Game

: 1960

Memorable Game

:

Yale

-

Princeton

1893 - I

Short Story: Spurrier

Delivers

How Well Do You Know the Rules? Football Quiz

Basketball Short Story

Combat Pay in Syracuse




Tiger

Den Basketball

Clip

Jayhawk

Wings


Basketball Profile Julius Erving - III


Memorable Game

Virginia

@

William & Mary

- 2/14/1953

Basketball Quiz

Highest Scorers after

Pete